Family Time Fitness - Fitness 4 Families Advanced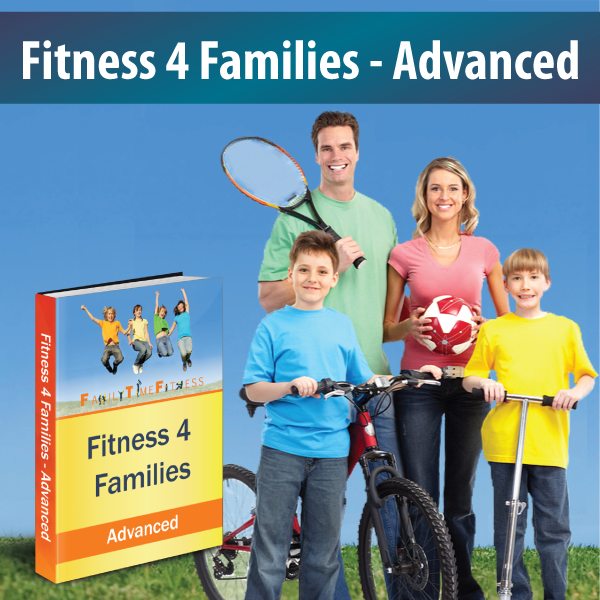 Fitness 4 Families Advanced Program - Family Fitness and Kids Fitness
The Fitness 4 Families Advanced Family Fitness Program builds on the motor skills and movements developed in the Fitness 4 Families Beginner Program. This program contains another 260 workouts and is designed to help every member of your family reach their full physical potential. Developing these skills will have a profound impact in your children lives. Imagine your children becoming adults who can participate in a wide variety of physical activities with ease and enjoyment.
Movement Skills Emphasized in the Fitness 4 Families Advanced Program for Family Fitness:
Agility
Balance
Body Awareness
Coordination
Hand & Ball Skills
Power & Reaction Time
Strength
Program Features:
260 different workouts for Family Fitness and Fun
Over 200 different family fitness exercises and games
Can be done indoors or outside
Used by every family member
Accessible from any computer, tablet, or smart phone
Benefits
Play with your children
Improved family fitness and kids fitness
Improved athleticism
Decreased stress
Improved focus
Less illness
Money saved from fewer doctor's visits due to better health
Happy children
Happy parents
Fun with the Family while doing Fitness
The Fitness 4 Family programs are uniquely designed to engage the whole family. There is no need to go to the gym and have each person do their own workout. Parents are role models to their children. Engaging with your children in physical activity in a fun, family environment shows them that you value your own health as well as the health of your children. The Fitness 4 Family Advanced program will challenge you and your children but it will also help you create lasting memories of time spent together.